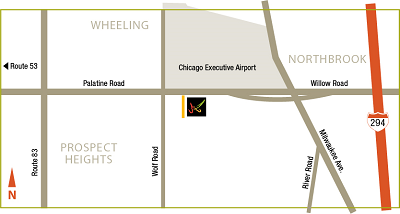 Google Maps
Want To Send Us A Message?
* These fields are required.
Contact Us
We're easy to find and easy to reach!
Chicago is a big place, so we made sure our office was located where it'€s easy and convenient to drop in for a meeting. Just a stone's throw from 1-294, you'll find our creative little corner of the world near the Chicago Executive Airport (just in case you'd like to give us a ride in your private jet).
Swimmer Integrated Marketing
15 East Palatine Road, Suite 109
Prospect Heights, IL 60070
p 847.215.0900
f 847.215.9821
directions from the west:
– Take I-355 North into Rt. 53 North
– Take Rt. 53 North to Palatine Rd. East exit
– Take Palatine Rd. East (Express) to Wolf Rd. exit
– Just past Wolf Rd., turn right into the parking area
directions from Chicago and south:
– Take I-290 West or I-90 North to I-294 North
– Take I-294 North to Willow Rd. West exit
– Take Willow Rd. into Palatine Rd. West (Express) to Wolf Rd. exit
– Turn left on Wolf Rd., and left again to Palatine Rd. Eastbound
– Turn right into the parking area