What B2B Marketers Can Learn from Zebra Technologies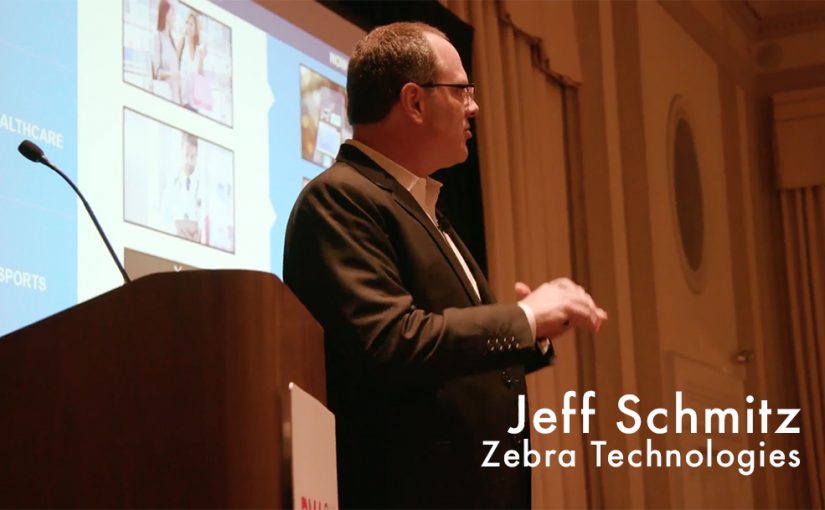 Last month, the Business Marketing Association of Chicago welcomed Jeff Schmitz of Zebra Technologies. During his luncheon talk, Schmitz shared how it's important for B2B organizations of all sizes to embrace the technology transformation that's happening in both our personal and professional lives.
"The way companies are going to transform themselves is through technology." Jeff Schmitz, CMO @ZebraTechnology pic.twitter.com/fyMs7hbFqS

— BMA Chicago (@BMAChicago) April 13, 2017
Because of the Internet of Things (IoT), cloud computing and mobility, tomorrow is coming at us faster than ever. Schmitz shared his thoughts about the best ways marketers can succeed in this rapidly changing environment.
Here are my favorite takeaways from his talk:
Data-Driven Branding and Marketing
As Schmitz explained, "Zebra Technologies is a $3 billion dollar brand." Yet since they supply equipment used to print shipping labels for major companies like FedEx, UPS and DHL, many still think of the brand as only a printing company.
Schmitz discussed how they're much more than that. Zebra provides smart solutions – like sophisticated sensor technology – that gives organizations the data needed to have unprecedented visibility into their operations. Case in point: the National Football League.
Zebra has developed RFID tags which are placed under players' shoulder pads to track each person's real-time location coordinates to within a few inches. All this information is then sent to Zebra's software, which turns a football play into real-time data about players' speed, distance traveled and acceleration times. Coaches and scouts benefit from these smart stats into each player's performance. And fans watching at home can see all these real-time insights about their favorite players too.
Sure, this all sounds great for the NFL, but what does it mean for B2B marketers?
First, whether you're a billion dollar brand, small start-up or non-profit organization, brand awareness remains a big challenge. We're either pigeonholed into realms we're well known for, or find difficulty increasing awareness in new areas. Schmitz explained that's part of the reason Zebra is partnering with organizations like the NFL to increase awareness about their total solutions.
Schmitz made another key point about using data to drive branding and marketing initiatives. Just like coaches are turning to metrics to maximize their team success, B2B organizations should also turn to data to boost their performance.
Move at the Pace of Change
Schmitz shared a story we all likely have some experience with. When our parents wanted to buy a car, they went into the car dealer and discussed what kind of car they were looking for and options they wanted.
But thanks to how quickly technology has changed, today most buyers walk into a dealership having done the bulk of their research online – so much so that they may even know the invoice price and MSRP of the vehicle they want to purchase.
This kind of online research plays out in the B2B space too. Schmitz reiterated that over 80 percent of B2B sales starts with a Google search. Armed with this knowledge, he offered this piece of advice: strategically direct marketing initiatives to those early discovery stages. Brands can better increase their visibility during timeframes when buyers are doing initial research.
Another key nugget: it's especially important to use a full range of communication tools, including social media, in the awareness stage. Having the opportunity to communicate your full brand story anywhere prospective customers may be looking for information can keep you from getting pigeonholed.
Schmitz emphasized that forward-thinking marketers who embrace rapidly changing technology and connectivity will open the path for faster company growth and productivity, and better service delivery. After all, the rapid pace of change is going to continue. Schmitz shared that it took 38 years for radio to reach mainstream. But it only took just 19 days for Pokemon Go to become popular.
While we don't know what tomorrow will bring, by leveraging the power of data and being prepared to move at the pace of change, B2B marketers can keep their brand and communications relevant.
Comments