Shortcuts to Step Up Your B2B Tradeshow Marketing Success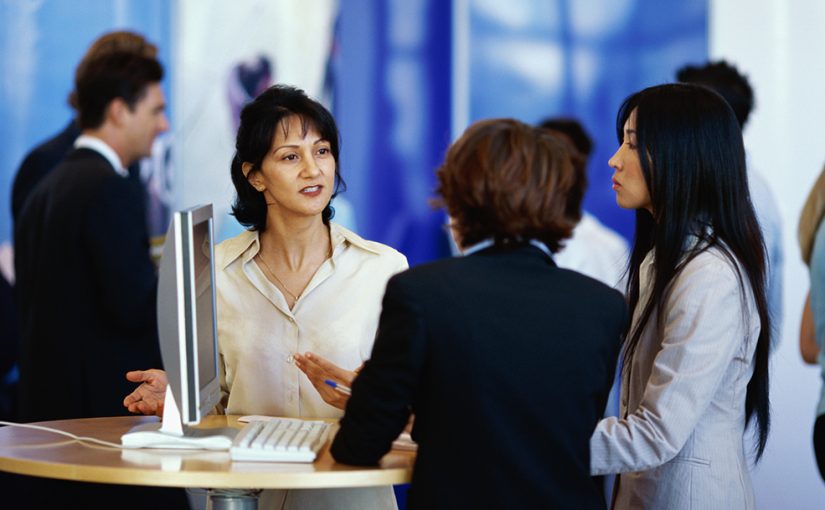 Tradeshow marketing – for B2B marketers, industry tradeshows provide a unique opportunity to mingle and meet with customers and potential prospects.
But when you're vying for attendees' attention, it's hard to break through the clutter of competitors and hundreds of marketing messages.
With a well-thought out pre-, at- and post-show strategy, tradeshows can have a big payoff. Here are proven shortcuts to step up your tradeshow marketing success.
Pre-Show
1. Scope Out Attendee Intelligence
Often, tradeshow organizers have a treasure trove of attendee insights – everything from why they attend to what they're looking for at the show.
If you're evaluating whether to attend a show, or considering upgrading your footprint, take advantage of attendee intelligence available from show organizers. Use these insights to shape your tradeshow marketing strategy, message and promotions.
2. Invite Current Customers
If you're traveling to attend a tradeshow in another city, this is a great opportunity to catch up with local customers. Have your sales team reach out to contacts to set a meeting before the show starts or connect over coffee or drinks.
Alternatively, email or call all current customers with an invitation to visit you at the show. Give them the option to set a specific meeting time in the booth so they don't have to wait. This can be especially effective if you have something new to share since it makes them feel like a VIP.
3. Secure a Spot on Attendees' "Hit List"
Research from The Center for Exhibition Industry Research (CEIR) has found that 76 percent of B2B tradeshow attendees determine the booths they plan to visit in advance of the show.
To make sure your company is on that "hit list", create an integrated pre-show marketing campaign. Create awareness that you'll be at the show and promote what in it for attendees to visit your booth through your company's social media channels.
Also ask the show organizer if a list is available to purchase, or use past lead lists from that show to send direct mail and/or email to reach other pre-registered attendees. Time it so direct mail arrives about 7-10 days before the show, with emails delivered about 3-5 days before the show starts.
4. Develop Your Post-Show Follow-Up Plan
Too often, companies wait until after the show to decide how they'll follow-up with new leads. Instead, develop your post-show follow-up plan before the show starts. Before you even leave for the show, develop talking points and/or email templates, and distribute them to staff handling lead follow-up.
And don't forget to determine how leads will be distributed and how you'll hold reps accountable for following up with their leads.
At-Show
5. Triage Traffic
Tradeshow visitors range from those just looking for general information to those needing answers to highly technical questions. Those kinds of conversations will be vastly different – and you'll need to have a system in place to triage based on different attendees' needs.
Designate different roles – like greeters, demo staff and subject matter experts – and make sure each staff member is prepared to handle their assigned role and convert as many contacts possible into qualified leads.
6. Safeguard Literature and Giveaways
Refrain from putting too much printed literature or giveaways on display for passersby to pick up and move on without having a conversation with you. Reserve these items for contacts genuinely interested in your solutions.
Even better? Capture their contact information and offer to send follow-up materials after the show to prevent it from ending up in the trashcan.
7. Survey Your Industry
Take time to see what others are doing in your industry, including your competitors. Spend a few minutes observing different booths to see what's working and what's not, what their messaging is, and what products or services they're featuring.
Post-Show
8. Conduct a Debrief
While it's fresh in everyone's minds, do an informal debrief of what worked – and what didn't at the show. Make notes of areas to improve so you can make changes before the next event.
9. Follow-Up with Those Leads!
Last, but certainly not least, follow-up with leads quickly so any connection you made during the show continues to grow. If you created your talking points, email templates and follow-up plans in advance, you'll be able to quickly and easily contact your leads while the visit is fresh in their minds.
Talk to us about other ways to boost your tradeshow marketing success!
Comments