Five Marketing Tips for 2021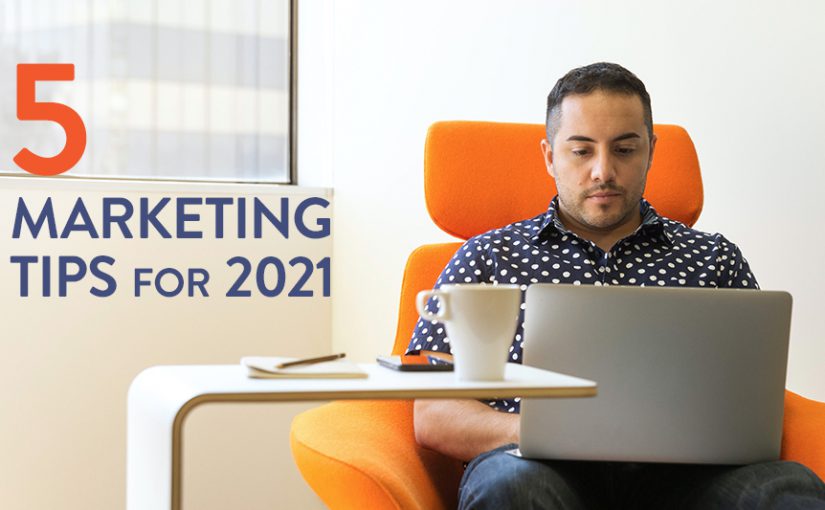 Our team recently attended the American Marketing Association's virtual conference "The Year Ahead 2021". We would like to share our thoughts plus some of the key takeaways from three-days of great presentations. The topics included digital transformation, brand innovation, data sources and anticipated changes.
Here are five that we feel are the most important now:
Plan Marketing With an Eye on Pivoting
So much is in flux due to the current health crisis, It only makes sense to do detailed marketing plans for a single quarter with more general direction for the continuation of the current activities or a new focus. Agile marketing is needed now more than ever.
We advise to include all forms of communication and how they will work together – consistency is key. How do your social and email campaigns work with other activities like blogs and webinars or video creation? What additional assets will be needed like landing pages, PDFs to detail a product or program offering?
Content Should be Consumer/User Driven
We are all producing more content than ever. Swimmer has certainly seen that with our clients over the past 11 months. But the messaging may be off-brand. Or not what the consumer is looking for. Personalization of your messaging beyond just their name in an email goes a long way. You can include listing an event they attended online.
The types of content being produced for your audiences should be informative and consultative – showcasing personal experiences and be very relatable to them. In general, audience trust of a company has gone down and people do not want to be "sold", they are choosing to align themselves with companies with similar values. Content should be multi-channel and customizable to audience segments with different needs and preferred communication types – social content, emails etc.
Move to First-party Data
For many companies and organizations, a high percentage of their audience connection is through website visitors and social media. Third party cookies and retargeting individuals can be a key messaging and sales avenue.
Here is what we heard: Firsstly, Google will end support for third-party cookies in their Chrome browser within 2 years. Secondly, Apple is also blocking cookies in the next version of Safari and both Firefox and Safari are "cookie challenged" currently.  So, it is anticipated that by 2023 86% of browser traffic will not support cookies. Now is the time to work on building direct first-party connections with your audiences – getting them to opt in to emails, texts or apps to allow direct communication with contact information that you have control over.
Create Brand Templates
One of the most important investments organizations can make is working with your branding and marketing partner to create brand templates to maintain a strong, consistent image. The templates should include base files for social posts, online ads, single page ads or inserts that would be typically used for the types of communications your company produces.
Both the brand look and brand key messaging need to be maintained. It was stated that content influences 95% of buying decisions. Variety is a key element. The brand templates should be well developed and offer enough variation to allow for consistency without being redundant. They should include headline and copy placeholders, and brand logos and graphic elements may be locked down to maintain consistency.
Enhance Digital Engagement
Hugh shifts in how audiences engage with companies, entertainment options and membership organizations have occurred. Even once we are back to a more physical connection with each other, the digital connection will remain strong plus it really allows for a broader audience of people who would not typically have traveled to a distant museum, store or training event. Plus, it is instantaneous, and much of it available 24/7.
Therefore, we need to continue to listen, learn and respond quickly to feedback and comments to meet their needs. We are seeing more organizations finding ways to monetize these virtual experiences and workshops, some with hybrid events with a limited live participant component and others attending virtually.
––––––––––––––––––––––––––––––––––––––––––––––––––––––––––––––––––––
2021 will continue to pose marketing challenges, and agile marketing will be needed to test what is working best for you and to communicate with your audiences to maintain engagement.
To learn more about what strategy and channels could be best for your organization contact the marketing team at Swimmer. Call or email us:
Mark Swimmer mark@swimmerchicago.com 847.215.0900
Debra Nemeth debbie@swimmerchicago.com 847.215.0900
Comments