Game Changing Strategy: MacLean Apex Product Launch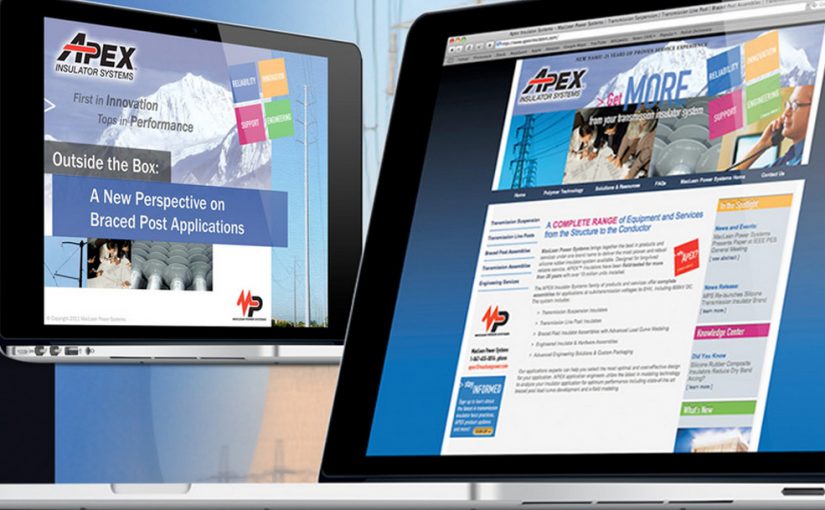 Living in the past is a Jethro Tull album, not a smart poker strategy.
Richard Roeper, Film Critic

Mature companies are survivors. They have a product or service that hits their market right between the eyes, decade to decade. They respond to their customers' needs. They attract and keep good people. They are well-respected within their community and their industry. In other words, they have withstood the test of time, fickle economies and competition. Survivors.
Although 'withstanding the test of time' doesn't always mean they have kept up with it. Like the film critic Richard Roeper has implied, they were still dancing to the same old rock and roll, and not tuned in to how the market had changed. For them, they needed a new poker strategy.
That scenario perfectly described one of our clients, MacLean Power Systems.   They have been a leading manufacturer of products used by utilities worldwide. One line, their 25-year old unbranded polymer transmission insulator products needed help. Although it still had its superior features, it was no longer on the industry radar in terms of awareness and market share.
See the full case study.
MacLean asked us to get them back in the game and that's exactly what we did! Swimmer developed a dynamic, integrated strategy that included:
– Naming: "APEX" meaning the peak/pinnacle/tops
– Positioning tagline: "First in Innovation. Tops in Performance"
– Product line logo: aligns closely to parent company for branding awareness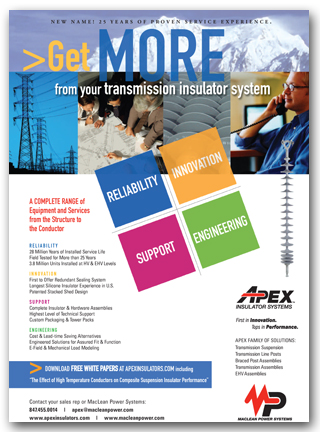 – Branding Imagery: distinctive mountain peaks that dramatically illustrate how APEX is the pinnacle in terms of quality and durability even in harsh environments.
– New graphics: square RISE design, another message conveying 'rising above the competition'
– Sales materials: dynamic product brochure and email templates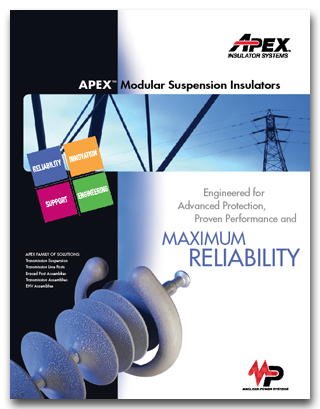 – Event marketing introduction: high visibility at a major trade show
– Microsite: dedicated site linked to company's full product line
– Thought leadership promotion: webinars, and case studies
Solution: Strategy in Play
Swimmer developed a unique brand name APEX. This was chosen to breathe new life via a're-launch' into an under-performing yet highly marketable product line. "APEX" translates into the pinnacle or the absolute best of something. This name helped to identify, brand, differentiate and re-introduce the polymer transmission insulator line as 'above the rest.' "APEX" would also help boost MacLean Power Systems overall value positioning as the market leader at the top of their game. Armed with a new product line identity, they had an exciting story to tell a market, and choosing a strategic trade show with just the 'right, time, right place and right buyers' was mission critical to the APEX kickoff.
Beyond the buzz on the trade show floor, the integrated marketing program was in full swing. It brought the full power of a rich media mix to establish brand awareness and gain mindshare. The ongoing campaign featured both print and digital collateral such as direct mail, print and online advertising, creation of a content-packed microsite, news flashes, case studies, technical abstracts and thought leadership activities.
See the full case study.
Results: Winning Strategy
The initial brand re-launch is raising brand awareness and energizing sales to a whole new market that has just 'discovered' them. It kind of reminds me when my son discovered the Beatles 10 years ago. Great music like great products will always find their fans.
Comments